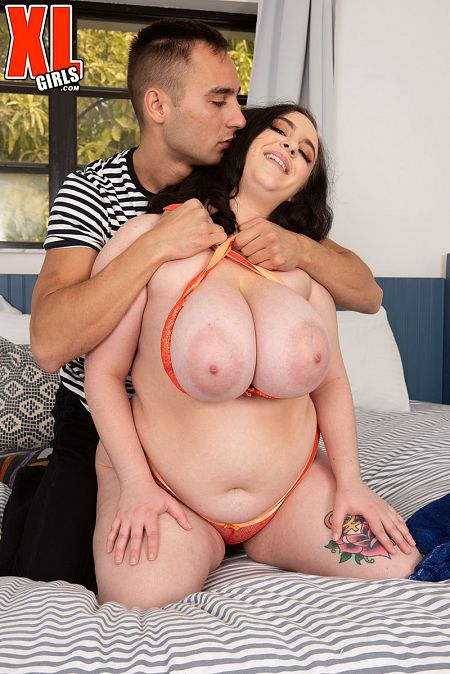 Fantastically foxy Milly Marks walks into the bedroom where Milan is waiting. She's already wearing a bra and panty set and a lacey robe, looking as smashing and smashable as ever. Before Milly walked into the room, Milan was checking out two of her bras, an orange and a blue one, imagining what Milly's tits would look like in them. He's also imagining what her beautiful face and her bedroom eyes staring at him would look like with his dick in her mouth. But that will come sooner than later.

First, he wants Milly to model the two bras for him. The orange one is too small but looks hot on those giant breasts that can bend bra hooks. The blue one is a better fit. He's immediately beguiled by Milly, a common reaction to her, a reaction that brings an amused, naughty smile to her lips. The power of Milly Marks. She's happy to please and tease him, seeing he's in the inescapable grip of boob fever.

When Milly is done trying on her bras for him, he buries his face in her cleavage and fondles and licks her twin peaks of plumped perfection. Boob drunk, besotted by breasts as true tit-man should be, Milan can't wait to fuck Milly's breasts and feel her tongue tickling his boner.

Milly wants to get fucked and takes off her panties to reveal bush garden. Milan dicks moaning Milly slowly at first, opening her pussy up, rubbing her clit, then building up thrust and speed.

As Milly has said before, "Being young and beautiful is incredibly fun and a powerful feeling, to say the least. People usually compliment me on my eyes or my boobs, which is very sweet. But a lot of people who get the chance to know me compliment my brain and I love that more than anything."