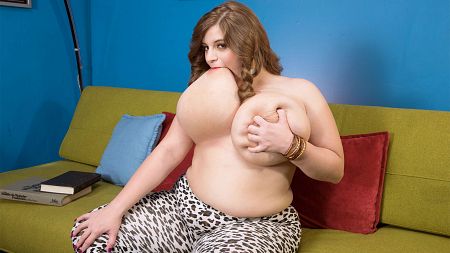 The ever-lovable Sarah Rae says she comes from a place called "Big Titty Island." We've never heard of this place, but with all due respect to Disney, we'd call it the Magic Kingdom and The Happiest Place on Earth. We'd nestle into a nice piece of supple titty real estate and never leave.

Sarah Rae has the type of tits we'd love to be nestled in between. Our scene opens with our cameraman standing above Sarah as she bounces her tits for the camera. With as much tit flesh as she's working with, she could cause a small twister with the gusts of wind she creates with each booby juggle. And we'd love nothing more than to be caught in its wake.

"Do you like how my big tits bounce?" She asks smiling brightly into the camera. "They're so big."

We could watch this all day, but the good thing about hanging out with Sarah is that she gets better, hotter and naughtier the more time you spend with her. She's already one of the greatest self-sucklers of all-time and she's near the top in dirty talking, too. After peeling her clothes off, fondling her tits and teasing her hard nips, Sarah begins stroking her pussy. It's dripping wet and she's begging for cock.

"I want your cock inside me. I want you to make me cum," Sarah says. "Make me cum all over your big cock."

We wish we could, Sarah. But watching her get off right here is pretty damn hot, too. While stroking her clit and fingering her pussy, her tits are bouncing like there is a cock inside her. "Oh, that's so good," she says coming down from her climax.