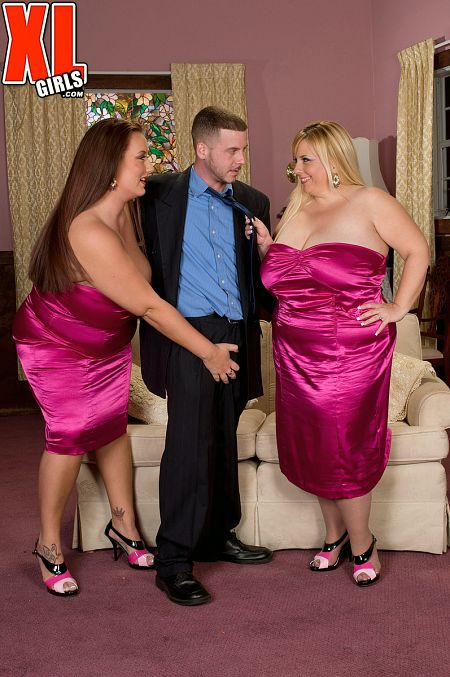 Cassie Blanca and Rose Valentina have another 30 minutes until Samantha 38G's wedding ceremony begins. What to do? They're horny. They could use a cock rubbing in and out of their cunts. They spot the wedding photographer, the only single dude in the wedding hall.

"He's hot," says Rose. "Bet he's got a big dick, too." Cassie agrees with the prediction. Cassie asks Rose, "You wanna go have sex with that cute photographer?" Rose replies "Like, right now? Yeah, but I just don't go up to random guys and ask for sex." Cassie counters, "Come on, let's just do it. Look, just follow me and let me do all the talking, okay? Maybe you'll learn something."

They corner the photographer. "Wanna get a pizza and fuck?" Cassies asks the dumbfounded photographer. But at heart he's used to it. If you've ever been a guest at a wedding, the women tend to get very horny. "Do...you...want...to...get...a...pizza...and...fuck?" Cassie repeats. "What, you don't like pizza? That's okay, we can skip that part!" "Sure," says the photographer.

The three of them start fucking while Sapphire and Maria Moore are busy with Samantha 38G's final wedding dress touch-ups. Fucking nasty while the unsuspecting wedding guests wait patiently. Like we said, weddings make women horny, especially single women.