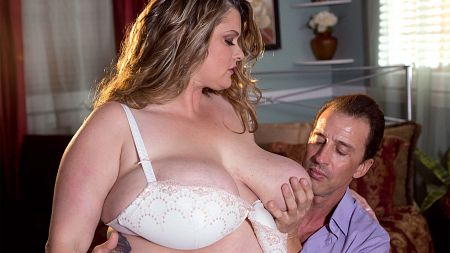 Kimmie says she's looking forward to getting fucked. We love a bold and sexy woman who tells it like it is.

Kimmie is looking forward to being fucked from behind, one of her favorite positions. "Knowing that I'm being filmed makes me feel sexy and desired," says Kimmie who admits to being nervous, something completely natural.

Tony D. sucks, kisses and squeezes Kimmie's bigger-than-big 42H-cup boobs and helps her undress. His hands cannot wrap entirely around Kimmie's hooters. They are sensational.

Kimmie unzips him and takes his stiffy out. She slowly licks the head and balls, sensuously and erotically. Tony drives his skin-train through Kimmie's titty-tunnel and bangs her boobs hard. His shaft practically disappears between her massive mams.

Kimmie lies back on the bed so Tony can bury his cock inside the blonde hottie's tight and wet pussy, building up speed and depth to hammer her good, only stopping to lick her sopping-wet taco.

Kimmie holds her shaking breasts with both hands as her fuck partner pounds her furiously. The room fills with the sounds of her heavy breathing and moaning. It's a spectacular first sexing. Kimmie is in good hands as they try out different fucking positions.