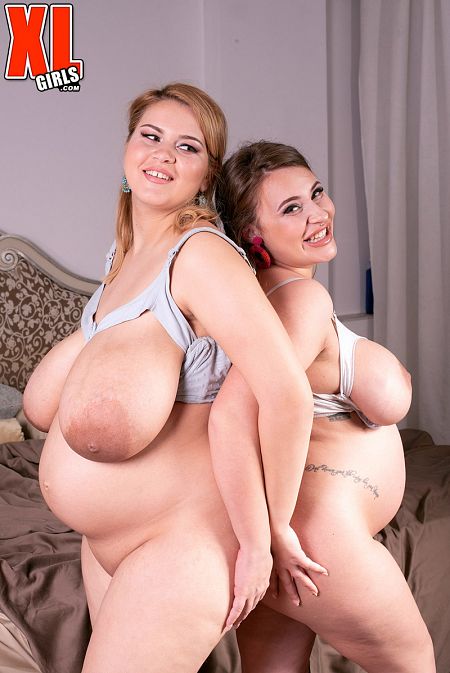 Erin Star and Sophie Rose explore their very pregnant bodies, play with maternity bras, undress each other, rub their big bellies and areolae, apply lotion on their big boobs, baby bumps and big butts and enjoy mutual erotic massages. Erin and Sophie get on their backs side-by-side facing the camera of talented model and photographer Roxanne Miller and rub their bellies and pussies.

As this scene was being posted to XL Girls, Erin announced that she was going into labor earlier than anticipated. A few hours after Erin's announcement, she gave birth to a girl. Congratulations.

Sophie Rose was a webcam girl for a short time. She's friends with fellow Romanians Erin and Mia Sweetheart. Now she's settling into her new role as a hot mum (as the British call sexy moms). "When I dated back in the day, I used to wear clothing that drew attention to my big breasts. Now I choose rather comfy clothes."

Happy new mommy-hood to Erin and Sophie.

We spoke to Roxanne about her day with the girls.

XLGirls: Had Erin and Sophie modeled together before? They seemed very comfortable, not shy.

Roxanne: They worked together in the same place. But I think it was more of Sophie being open minded, Erin already being a model and the two sharing a common experience: pregnancy.

XLGirls: Why do you think pregnant models fascinate some guys?

Roxanne: A pregnant woman is a goddess! She is the carrier of a miracle: life! A mother is, in most cultures, a saint. And for some, becoming a mother is to become a woman, not a girl anymore. For some, it is so sexy because they have a fetish with fucking a pregnant woman. If I am to think of myself, when I was pregnant, I felt super-sexy up until the last days when I couldn't wait to see my baby and also I was barely able to walk and cope with the heat of middle August.

XLGirls: You've modeled pregnant. Did it feel more erotic or sexy than when not pregnant?

Roxanne: It felt special. In some people's minds, the pregnant woman is not to be touched or fucked, and I come and say, "Au contraire, fella!" The pregnant woman is hornier than ever! The darker and harder nipples are actually more sensitive. I have flat nipples, but during pregnancy I actually had nipples! So all in all, for me it was an outstanding experience!