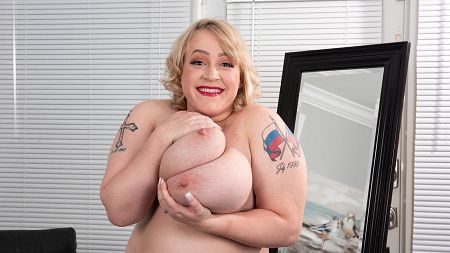 42G-cups. 170 pounds. 5'3". How does that grab ya?

Oxana Minsk is wearing a tank top that reads "Thick Thighs Saves Lives." XLGirls.com definitely approves Oxana's message. She does that top justice.

Oxana slips it off to rub, self-suck and jiggle her big, flawless beauties. Her tongue licks her nipples and her fingers sink into her soft breast-flesh. Getting totally naked, Oxana rubs her clit and it doesn't take her long to explode.

Some of the comments about Oxana include:

"I love her so much. Thank you so much, XL Girls."

"Delightfully fleshy in all the right areas - belly, pussy lips and tits - wow, what a super set of near symmetrical beauties."

"She's got everything that drives an XL lover like me crazy and while her tits are big even for this site, those lips are way out of the box so to speak!"