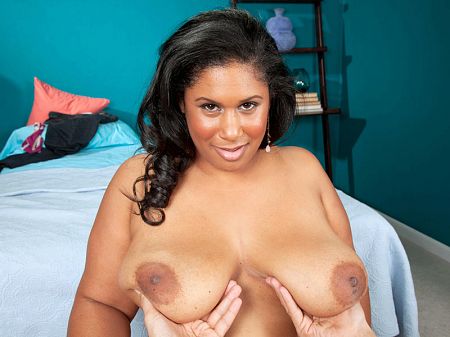 Delilah Black enters the picture and kneels, her 40DDD-cup jumbos ready to spill over her bra and top, scooped for impressive views of her deep cleavage.

She's got very hot vocal chords to go with her sexy bod so keep the volume up as she talks about getting a cock between her tits and rubbed all over her body and belly. In fact, her voice is so sweet-sounding that it was surprising to learn that Delilah's into BDSM.

"I am into sitting on the face of my subs, forcing them to worship my glorious ass and smothering faces with my boobs and foot worship," Delilah said. You'd never guess it looking at her and listening to her.

There are no shortages of willing subjects eager for some face-sitting action with that big, fat ass of hers. But since our surrogate cox-men are the assertive types, it's Delilah who gets to serve under one of them and fed his beef-sub with special sauce.

This vid was shot point of view. This Delilah won't give you a haircut like Samson got but she can drain your strength by draining the cum out of your cock.