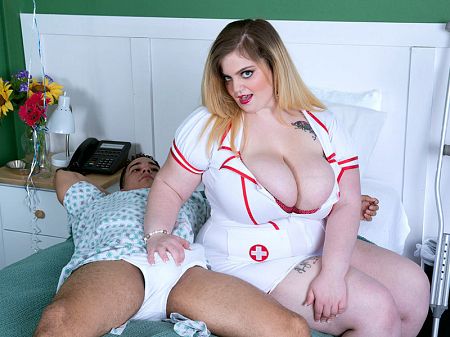 On this day, one of the patients Nurse Sashaa Juggs attends to is Rocky. He is due to be released soon, so Nurse Juggs is visiting to check him out one last time.

After some small talk, she pulls back the bedsheet and is shocked to see a large lump in his underwear. This discovery is very alarming to Nurse Juggs. Further inspection is demanded. She holds his man-bag and has him cough. Sticking her hand down his briefs, she extracts the cock, and, upon immediately diagnosing its condition, gives it mouth-to-penis resuscitation.

Don't worry, friends. Nurse Juggs is a trained professional at XL Girls and knows exactly what she's doing. Please observe her slow, loving technique. It seems to be working. The penis has been revived.

"What turns you on so much about me?" asks Nurse Juggs even though she knows the answer based on her experiences.

"Your titties," Rocky replies. "I love your titties."

Nurse Juggs pulls each huge boob out of her uniform. We told you she's an angel of mercy. "They're big," Rocky notes. Yes, the hospital stay has not severely dulled his faculties.

Nurse Juggs's check-up technique includes taking his dick temperature with her mouth. Massaging his cock between her tits. Providing nipple-to-mouth therapy. Pussy-on-top-of-dick grinding. Ass-up positioning for cock-to-pussy injection. Several cock-in-ass procedures. Accepting sperm donations in her mouth and on her face. Licking and sucking the cock right out of her ass. We said she was a great nurse.

If you ever have to be in a hospital and want to have a stay like Rocky did, please show this video to your nurse upon check-in.

Note: This information is not intended as actual medical advice for individual problems. Consult your health care provider first.