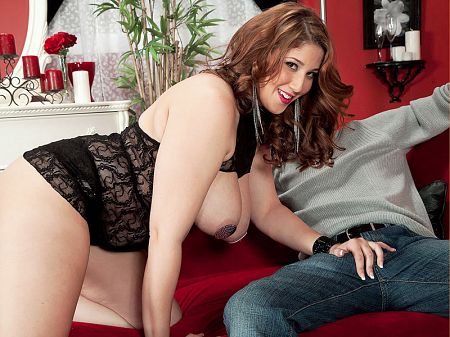 She looks like an angel. Walks like an angel. Talks like an angel.

If you think she fucks like an angel, you are 100% correct. Gorgeous Angel DeLuca is a busty angel of sexual nirvana. She can have anyone eating out of her hand just for a chance to get into her panties. The girl is ridiculously hot.

Angel is very flexible and can get her body into hot positions and wide-spread pink poses. She is a very erotic seductress and very physical, great at nipple-licking, masturbation, naked splits and leg-extensions. And beautiful at fucking the cock.

Angel spreads her legs wide and wider for Tony's sausage. But only after giving him a tantalizing display of her succulent tits, spankable ass and hypnotic pussy.

Angel is bi and has a wife at home but she's very sexually open.

"We did have this one guy whom we kept around for a while, but it's normally more of a one-night stand type of thing," said Angel who found us and contacted us at BeASCOREModel.com.

Angel's one-night stand with Tony at XL Girls.com is something to savor over and over again, making this scene a go-to for nut-busting fun. She really knows how to please a horny guy and she is the best at getting into very hot positions for the camera.