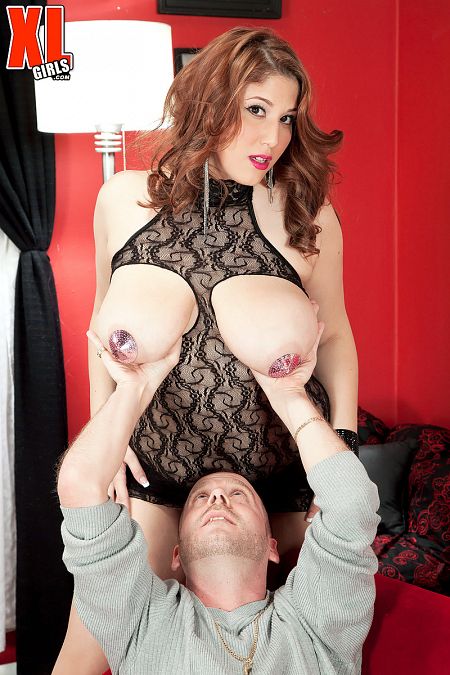 'Would you like to cum and fill me? In my warm, wet pussy?" asks Angel DeLuca, rubbing her delicious pussy. That's a question? Only a crazy man would say no. She is so beautiful and busty.

Angel wears a black teddy that is cut to expose her huge tits. She covers her nipples with old-time pasties, the kind that burlesque dancers used to wear. They are too small to conceal all of her very-wide areolae.

Angel gives Tony a little show, a taste of things to cum before they get down to the fucking action... something to increase the flow and the heat of the sex juices. This enchantress loves to build up the anticipation and the thrill of the reward. Her sexy, stacked body is the reward. The ultimate reward.

Angel sees no pleasure in rushing things. She'd rather tease and tantalize first. A girl with a body like hers is special and must be savored in every way. Tony examines her big tits--sucking her sweet nipples. Then he feasts his eyes on her pink pussy before he parts the lips with his fingers.

Angel opens her mouth for cock, fingering herself as she sucks on it while erotically looking into the camera with sly, come-fuck-me glances. She gets on her back and spreads her limber legs wide for her first penetration. That's only the first pussy invasion. Angel loves it deep inside and sits on his cock until every millimeter of her girl-hole is stuffed.

These pictures are incredible and show that Angel fucks like an angel.