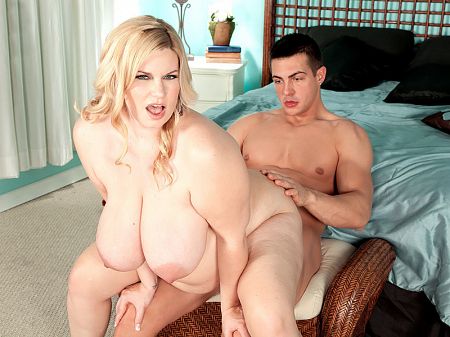 Bailey explains her fuck schedule. Getting cock once a day--good. Getting it two or three times a day--even better.

JC is transfixed by Bailey's huge, pliable whoppers decorated by pancake-sized areolae. He pulls one tit out of her slip to touch, lick and suck. Bailey hasn't begun to lactate yet. She tries to squeeze out some milk but only a drop or two come out.

"Are pregnant pussies wetter?" he asks, spreading her legs apart and moving her lacy slip to the side so he can feel it. He sucks on a nipple and is able to hold it in his mouth for a second until gravity pulls it out of his mouth.

JC pulls out a tape measure so he and Bailey can tape-measure her tits on-camera. She gets naked and lies back so he can finger-bang her hole. Bailey sits up, takes JC's big tool in hand and spits on it, then shoves it in her mouth. The size makes her gag and choke and that's a good thing. She's got her hands and her mouth full. Pregnancy is a waiting game and the gradual changes to a chick's fertile body make her antsy. Big cock worship keeps her occupied.

Bailey's pregnant pussy satisfaction is guaranteed when she fucks and comes all over the cock. A fuck so good, it almost hurts her to stop.