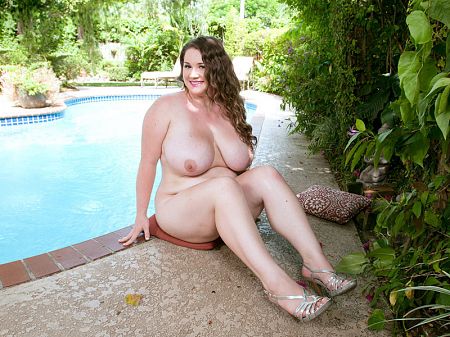 Nikki Smith goes poolside in her bikini. We're in a private location but Nikki must drive guys insane whenever she goes to a public beach or pool.

"I'm very comfortable with the attention that my breasts bring. I've received a lot of attention because of them since I was young so it's just second nature now. I have to have my bras custom ordered. I try to have a couple of different styles: low-cut, full-support and of course, a couple of cute dress-up bras. I tend to strip the bra off as soon as I get home."

Nikki gets hit on a lot. "I am not a huge fan of pick-up lines but the one that stands out in my memory the most is 'Don't tell my wife but you make me really want to have an affair!' Seriously? That was his pick-up line!"

Nikki's mother is a blonde sexpot named Barbi Banks and she modeled for 40SomethingMag.com when she was 48 years old. Her first magazine layout was in 40Something (SP245). Nikki encouraged her mom to model and brought her to TSG's attention. Horny genes must run in their family.