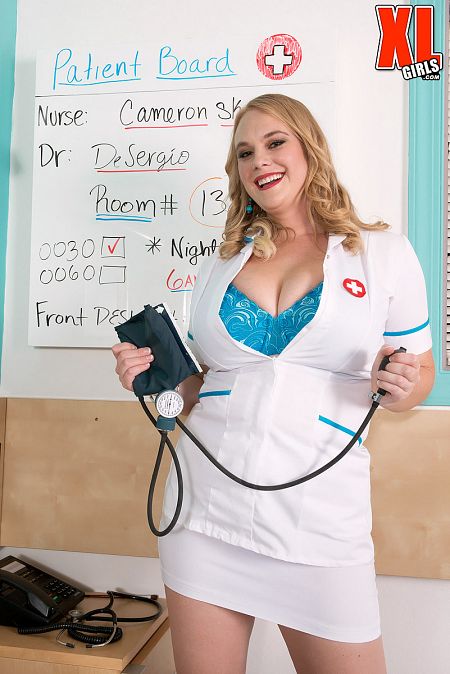 Cameron Skye is going to have a lot more on her hands than this one sick patient. First of all, he's not sick. He hasn't been sick all week. He's only been pretending to be ill so he can enjoy Cameron Skye sponge baths all week. For this he is not held accountable. It's understandable.

Cameron Skye is so bubbly and perky that when she goes outside on a grey and gloomy day, the clouds part and a rainbow and chirping robins appear. She is the perfect nurse, especially for patients who love pretty blondes with big boobs, broad-beamed butts and sweet, juicy boxes.

Cameron comes by to check her patient's charts and to say good-bye. But simple good-byes won't do so she takes his dick in the palm of her hand and begins to jack him. The doctor enters the room when she does this but he doesn't admonish her. On the contrary, he is delighted and wants in on the nurse action. In fact, a three-way is just what the doctor ordered and Nurse Cameron is all for it. She has a dripping-wet pussy, blowjob lips and a sucking mouth that deserves an award.

There is a cure for the U.S.'s health care crisis. Her name? Cameron Skye.