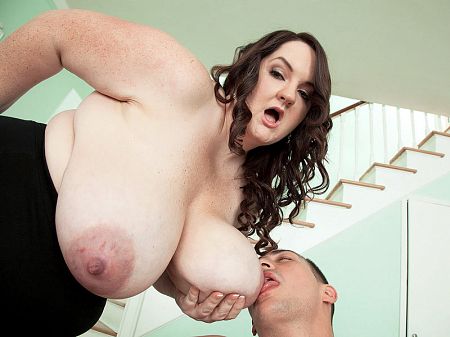 Danica Danali watches as a workman supervises a job outside the XL Girls house. She gets horny watching him and taps the window to invite him inside. Deep, deep inside. She lets him inside and shows him that work can wait while she buries his face under her massive tits as he sits back on the couch. Her new fuck-friend sucks and licks to his heart's content as Danica savors the pleasure of his tongue. A man could literally spend all day feasting on her gigantic knockers.

Danica wants his cock between her giant tits and lays back on the couch so he can drive his skin bus between her deep cleavage valley. Her nipples are as stiff as pencil erasers. She's excited by the feel of his cock between her super-melons.

Johnny fingers her pussy, stimulating it for the first thrust of his dick inside it. His cock is big and thick and fills Danica's pussy with waves of pleasure. He will be injecting Danica's pink slit with a warm, creamy filling after their hot fuck. It's a good day to be hard at work.