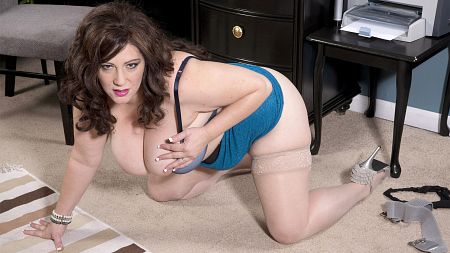 So how many businesswomen do you know who can talk to their vendors on the telephone and toy-bang themselves with a vibrator at the same time?

We at XL Girls on the other hand (the hand that is jacking off watching Jasmine Jones fap it), know quite a few.

While Jasmine is drilling her juicy, pink Texas taco, she's tweaking her nips for additional pleasure. Look at how fucking pointy she gets them. They could give a guy a black eye.

Businesswomen such as Jasmine call this activity a mid-afternoon energizer. It keeps their executive skills honed and their pussy juices flowing. If only that chair could talk.

Divesting herself of her capital assets and almost all of her clothing except for the stockings and shoes, Jasmine gets on the floor so she can drive her little friend in deeper on her knees and on her back. The view is picture-postcard perfect as Jasmine pumps her mature cunt to a 'gasm spasm.

Then it's back to multi-tasking on the phone to make sure the business of the day is getting done at Jasmine Jones & Associates.