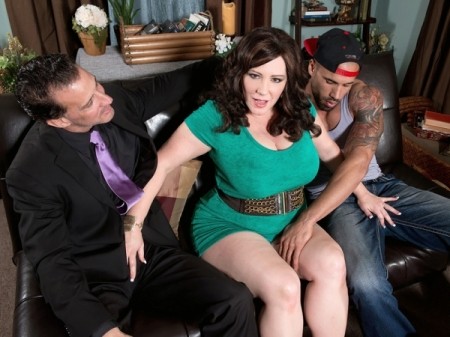 Sexy Jasmine Jones has made a slight boo-boo. She's separately invited Tony and Carlos over for a hot date and they've both shown up at the same time. Is Jasmine stuck? What's a girl to do? When she's Jasmine Jones, she lets both of them have her at the same time so there are no hard feelings for the faux pas. This is a very democratic way to settle things. For a hot-blooded woman like this, two men at one time seems natural.

Each man helps himself to one of Jasmine's huge boobs. She spreads her legs wide. Her hot panties are too tiny to cover her pussy lips. Now the race is on for each dude to unzip and get his skin flute out so Jasmine can get to playing a hot tune.

While both are sucking and pulling on her long nipples, Jasmine gives Tony and Carlos a hand job. Carlos fingerbangs Jasmine to wet her pussy even more. While Jasmine is blowing Carlos, Tony comes around the other side and slides his love-log into Jasmine's waiting pussy. Then the guys reverse their positions and continue pumping their bones into Mrs. Jones.

After ten minutes, Jasmine is getting pounded so hard by Tony that she cries out, so Carlos fills her mouth with his cock. Their manhandling continues but Mrs. Jones soaks up the sexual energy of her double date like a sponge. She is clearly exhausted fucking these two athletes of sex, and they look wiped out also. They have met their match.