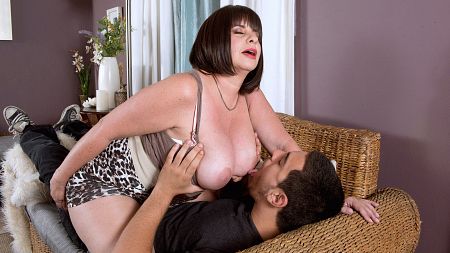 Kris Kelly is usually very chatty, but she's a lot less chatty when her fuck friend James sucks on her nipples, buries his face between Kris's big boobs and fondles her while they hang out on the couch. Some women are talkers when they get fucked. Others are more the moaning types.

Kris wants to suck his dick and goes down, sucking and jacking her flesh-and-blood cock-toy. Kris likes to suck slowly and erotically, licking the head. James stands up and feeds Kris, making her cheeks bulge as his shaft fucks her mouth.

Kris gets on her back so James can slide his pole through her cleavage valley. He parts Kris's legs and slips his cock from her tits into her wet pussy. Their fuck begins and James pumps Kris hard and fast from beginning to end.

With one mighty thrust, James delivers his load deep inside a moaning Kris. When he withdraws, Kris squeezes out his jam with grinding pelvic contractions. A well-mannered lady, Kris thanks him for his gift of hot semen.