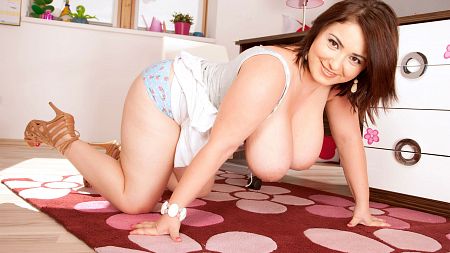 Lavina Dream's desk looks exactly as you might picture it. Very girly, with pink lampshades and other feminine touches. Lavina turns around to greet us and begins rubbing and squeezing her bigger-than-big boobs. She pulls them out of her top and sucks her nipples. This is always impressive since many huge-chested girls can't do this, but Lavina does it easily.

Lavina slowly removes every stitch and fingers her pussy lips, rubbing her clit in a circular motion. Her breathing gets deeper and faster as her erotic pleasure intensifies. Sitting on her desk bare-ass naked, she reaches for one of her office accessories, a very girly-looking vibrator--pink with red hearts on it. This is the kind of office accessory you'd expect from Lavina.

Whatever workload Lavina has to take care of is put to the side. She has more important things to do and that's to entertain us. Much appreciated, Lavina.