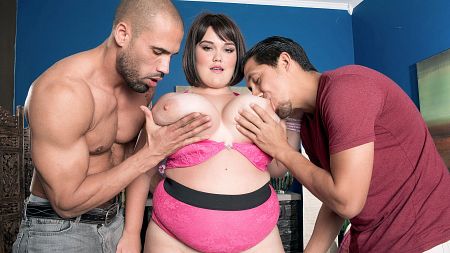 Lisa Canon is a very popular regular at XLGirls. She broke her on-camera cherry here in 2010 after seeing XL Girls magazine and writing us. At first, she posed solo, then contacted us only a week later, quickly ready to ride hard and get put away wet. Lisa is now a famous graduate of the XL Girls modeling academy.

"I've always been sexual, but sex in private is so different from sex with a professional stud who knows how to teach a girl what positions work best and how to move her body, and a camera five feet away from me...very different," Lisa said in the beginning. "It opened up a brand new world to me because I applied to XLGirls without ever modeling a day in my life. I'd never been naked in front of anything but my mirror and my boyfriends before."

In this scene, Lisa's double-penetrated by two hard-pumping pipe-fitters in "Lisa's Two-Man Booty Party," one in the pussy and one in the ass.

Lisa always satisfies her boys. "Thank you for giving us Lisa Canon," wrote T.P. "She is one of my favorite models. A girl like her is built to be pounded, and I jerked my cock so hard to her that I was sore." Welcome to the club, T.P.