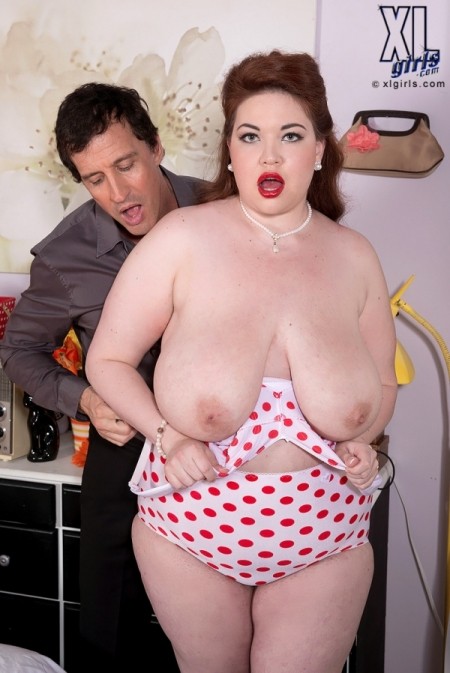 Nixie Night said that the dressed-up '50s housewife is one of her favorite sexual fantasies. This is the idealized fantasy of stay-at-home suburban wives and mothers all dressed up, their hair and make-up perfect, greeting their husbands with a cocktail and dinner and home-made dessert, then off to bed to have sex.

Nixie, a historian of sexual cultures past and present, is in her housewife dress and pearls and going through her lingerie dresser when Tony greets her with a smack on that spankable ass. Does he want to see Nixie try on some vintage underwear? He does, but the couple doesn't get far. Helping Nixie undress so she can try on a bullet bra over her big and heavy 42DDD boobs totally distracts suburban hubby.

The sight of Nixie's lush, plush body produces a giant erection and the retro fashion show ends abruptly so Tony can fuck Nixie's deep cleavage and she can give him a loving housewife blow job. There's no written rule that a housewife's first fuck position has to be in the traditional husband and wife missionary, but it's just as horny a position as any to start with. They will practice sideways, woman-on-top and doggie before the afternoon is over.

And what about dessert? That's Tony's treat as he feeds Nixie a load of nut-cream. She gives it her lip-smacking and finger-licking approval.

And they lived happily ever after.