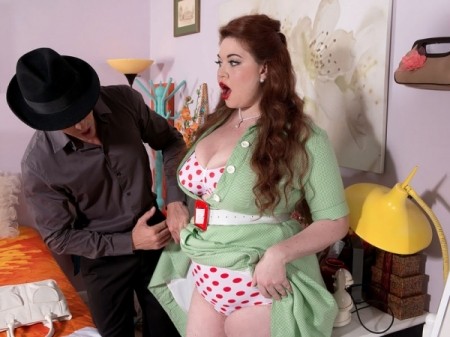 In one of her informative interviews, Nixie Night talked about a popular fetish-fantasy role-playing character that's one of her own favorites, the 1950s-1960s housewife in her sexy homemaker's dress, high heels and pearls. (Think June Cleaver from "Leave It To Beaver" or Donna Reed). "Getting Tight With Nixie Night" is Nixie's own take on the horny '50s housewife.

Going through her lingerie drawer, Nixie is interrupted by Tony. Nixie asks him if he wants to get a show and begins to unbutton her Sally Homemaker dress. Not only does he want a show, he starts to help Nixie out of her dress and vintage panties and too small bra.

Nixie tries on an old-fashioned bullet bra and a large, lacey garter belt.

Their fashion show ends quickly. Tony is too eager to bury his cock between Nixie's big 42DDD-cup boobs and Nixie is not the type to tease a guy for too long. She props her huge melons on his thigh and sucks his rigid tool with strong suction and deep, hands-free strokes. This honey really is a cock lover.

They both want that pretty wifey pussy drilled to perfection. Nixie gets on her back for the first penetration in missionary. That sexy pussy is filled to the brim with each down-stroke. Their domestic fantasy comes to a boil, and like any newlywed couple, even a fantasy newlywed couple, they experiment with different fuck positions until he loads Nixie's mouth. Masters & Johnson would have approved.