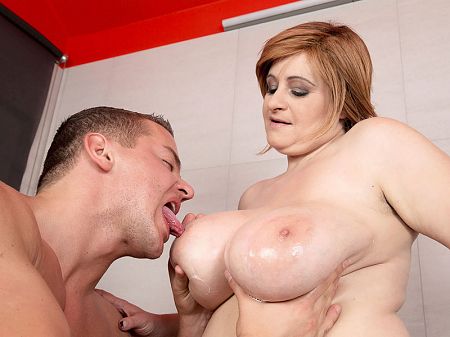 It's bath time for Patricia Gold but there will be nothing clean going on when Jay Dee enters the bathroom with a hard-on. Patricia soaps up, her two heavy handfuls sliding out of her palms. Patricia's tits are massive with equally massive areolae. Jay seems impressed by them and plays games with them. Patricia is like putty in his hands.

Patricia watches Jay as he drops his briefs. She longingly eyes his instant hard-on. While Jay stands in the tub, Patricia kneels and sucks his dick, deep-throating the shaft while one hand cups his balls. This gal is a very good cock sucker. "I had to have something special about myself to interest the guys so I learned to give blow jobs and that made me popular," self-taught expert Patricia said. "My girlfriends and I would practice on cucumbers and bananas. We could not get sex toys. We had fun."

Jay spritzes shower gel all over Patricia's chest and rubs it in as he plays with Patricia's big boobs. Unbelievably, they stand up in the tub to fuck. Patricia rests a hand on the shelf and holds onto the back of Jay's neck. He lifts up her right leg and slides his cock into her clam. Her big belly undulates as they fuck. "I was not worried about slipping in the tub because Jay is a strong man. He gave me one of the best times I ever had in my life."