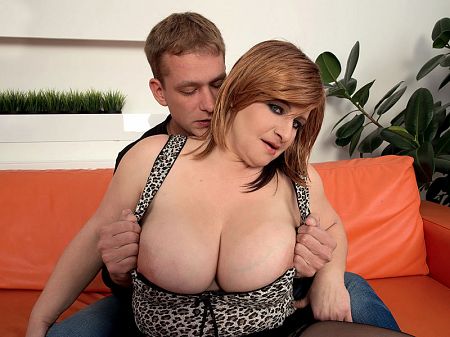 It takes around ten seconds for Thomas to toss his magazine aside after Patricia Gold comes onto him, rubbing her huge tits through her tight top. Once he gets a look at her body, a crowbar couldn't separate them. He begins feasting on Patricia's thick nipples and surrounding breast-flesh.

Patricia anxiously unzips his fly and takes his boner in hand. Her mouth magic takes effect. She rubs her tits while she's sucking him off. Thomas takes her by the back of the neck and pulls her head in closer as she blows him faster and harder. This gal has some mouth. She could suck the cream out of an eclair in five seconds.

Patricia smothers his cock within her deep cleavage, cupping her big boobs in her hands. Thomas fucks her tits hard. He leans back on the couch so Patricia can use her tits as cock-buffing massagers. Her pussy is hot and ready to be cooled off with his rock-hard hose. Patricia gets on her side so Thomas can shove his big dick into her and fuck her hard and deep, just the way she likes it.