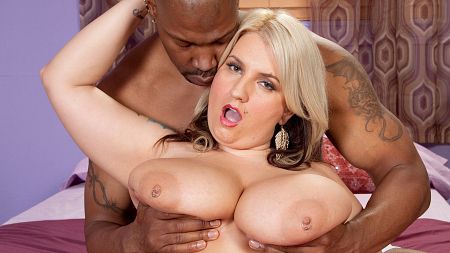 Porsche Dali. Huge, natural tits, big butt--spreading her pussy and porn is her life. Porsche is full of herself. And that's a good thing. Her hands and the hands of her friends with benefits are full of herself. Full of fistfuls of her rich, soft, pliable tit-meat that feel so good to squeeze and grab. She got those nipple rings to increase her pleasure.

Porsche is proud of her big, fat, natural tits and she shows it. The stud is enjoying the show, seeing Porsche work herself up. She'll need some big cock in a few minutes. His assignment is to give it to her. First, those phat tits need some attention. Her nipples need suction. XL Girls like Porsche need a big man who can dominate them, engulf them like cellophane and position their bodies.

Porsche's pussy needs a lube job. That cums next. She lays back on the bed and spreads her legs open for his head. Porsche appreciates a good clit licker. She has told us so herself. But all women do, right? You don't see a lot of cunt-licking in videos unless it's a girl-girl. Porsche's pussy is deserving of the tongue and some studs are as much cunt lovers as they are nipple-suckers. It's his turn next so Porsche kneels to suck and tit-fuck.

Using her tits to sandwich cock is her specialty and what every man who fucks her tells her to do. They don't need to tell her twice. Many cocks have banged her deep cleavage and many more new ones are eager to take their place. Porsche is stunt cock's living love doll of the moment, obedient and submissive. Her role in life is to please men and she's learning something new every day and improving her sex skills in her desire to be a famous porn star. Her stunt cock mutters orders to his blonde fuck in low tones. Now it's time for Porsche to get her pussy filled.