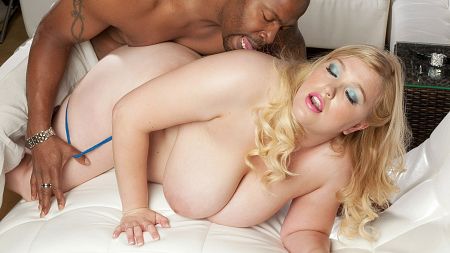 It's a cryin' shame that there are not Big Girl Strip Clubs in every major city. You go to most clubs and the dancers are skinny with D-cup boob jobs.

This man has been watching Sadie dance for months. He will sit there for hours and watch Sadie shake her tits and cheeky tush.

Sadie enters the club's main room and kisses Julia Juggs, who is dancing on the smaller satellite stage. Dressed in a NASCUPS race car cheerleader outfit and waving a checkered flag, Sadie climbs on the main stage and starts her steamy strip show.

Sadie gets off the stage and plops on the lap of the aforementioned front-row customer and grinds his lap. She shoves her tits in his face. The scent of her body makes him boob-drunk. Julia comes over. Sadie leans back, still on his lap, and Julia squirts lube on her big boobs. Julia leans over and feeds Sadie her nipples. It's a very hot scene and the guys are going crazy. Sadie gets up and takes him by the hand. They are off to the VIP Room to have a saucy little private party.

Now tucked away in the club's quiet and private VIP Room, Sadie gives him a horny lap dance and grind. (This is photographed in your-point-of-view.) She unzips his fly and grinds away, her beautiful body rubbing against his. She bounces her fine, foxy ass on his stiffening junk. Just the beginning.

Turning around, Sadie takes his dick in her soft hand and gets busy. She sucks it, licks it, wraps her big boobs around it and sucks and licks his bloated balls. Sadie makes popping sounds when she pulls his sausage out of her mouth. She knows how much guys love to hear that sound when they are getting a blow job. This blonde beauty really knows how to treat a man good. Sadie is beyond fantastic. Sadie is insanely hot.

After spending time with his cock down her throat, they have to fuck each other. That's what the VIP Room is all about. The couch awaits. Sadie gets her tip in the form of a cum deposit on her big tits.