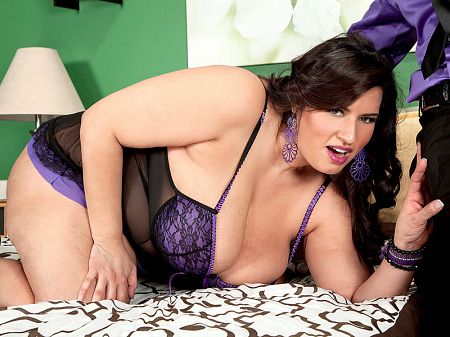 Sofia Rose is a sex goddess with a gorgeous face, killer boobs and a thick bod. She has a multicultural background, boasting Latin heritage and a southern California upbringing, although she doesn't speak Spanish.

"I like a lot of dirty talk especially if it's with someone I've been out with for the evening. The anticipation build-up drives me wild. Once we are in the bedroom, or wherever, I love to dress up and talk dirty. Role play as foreplay is fun." With Sofia, anticipation is something to eagerly enjoy.

She pulls Tony to her and they tongue-kiss, her hand reaching down to squeeze his junk while he rubs her pussy though her panties. He turns Sofia around to fondle her 38JJ knockers. They are massive, beautiful tits with dark brown areolae and darker nipples.

"Want these fat titties?" Sofia teases, entices, tantalizes Tony. "Don't get too greedy," she taunts him as he buries his face between her mountains. Ah, this one likes to drive a guy insane with lust first.

Sofia pulls his underwear down to get at his already-erect man-horn. She takes it in her hand and her sexy mouth descends on it as the trip to paradise and ecstasy begins.

Sofia says she enjoys the anticipation and build-up of a sexual experience.

Click that mouse 'cause Sofia Rose is in the house!