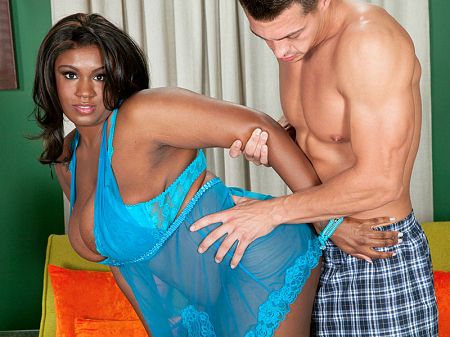 One-on-one hand job and blow job videos are best when shot in point-of-view. The viewer's dick is getting sucked, jacked and tit-fucked and the viewer is the sole object of the girl's attention. This is not always possible but when the circumstances are right, P.O.V. is virtual fun.

In a poll, we asked the TSG audience, "What is your favorite kind of XXX video?" 49% answered point-of-view while 51% said third-person (the viewer is the external observer). So the opinions are basically split in half, as it is in most of our polls.

Chantal Raye jerks, sucks and tit-fucks your pipe while talking to you and urging you to blow your load. She sits beside you looking lush in a flimsy negligee. Her big, brown 44DD tits are erection-producing and her areolae are huge, over three inches in diameter. "You ready for me to put these big tits on this cock?" asks Chantal. She has a very sexy voice, one of the sexiest, and that gets things even hotter.

Chantal slips off her negligee straps, pops her tits out of her bra and sucks on one nipple. Her other hand is rubbing your thigh and your shaft. Chantal lowers her head and sticks your dick in her mouth, her right hand gripping the base of your pipe. She sucks on it like a lollipop, still staring at you. Chantal has a pretty face that looks even better with your dick in her mouth. She makes those great slurping sounds as her head bobs.