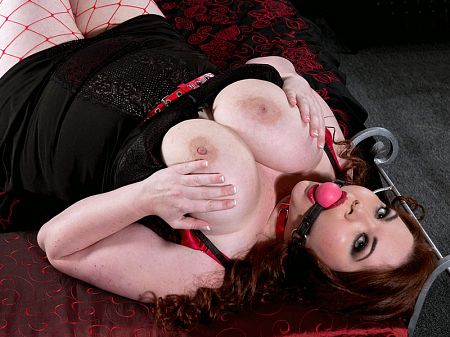 Nixie Night looked like the ultimate girl-next-door in her previous photos and videos, but you don't know the half of it. There's another side to this luscious damsel. With her new sexy outfit and bad-girl make-up, Nixie becomes another girl.

Her legs and feet in red fishnets and red extreme heels, Nixie touches her fetish gear next to her on the bed and opens up about this little hobby of hers: "I like to be a little kinky and bad. I like to get spankings once in a while on special occasions. I've been handcuffed. I liked that quite a bit. I like to be restrained and submissive, being forced...having as little control as possible."

Leather paddle in hand, Nixie pulls out her big, beautiful boobs and gets on her knees. She paddles her very paddle-worthy ass to show you what she would like to have done to her.

"I've never been paddled," says Nixie who would have no shortage of eager volunteers if she were looking for some whacks.