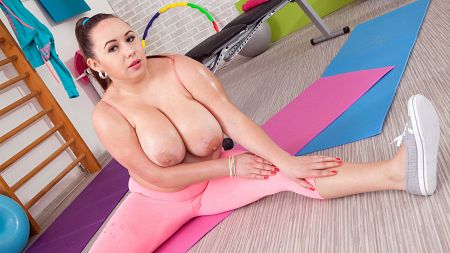 You won't need your X-ray glasses. Monica Love removes her hot chick fitness outfits as she works out. We also guarantee that you won't be seeing exercise routines like this at your local gym. Monica loosens up for a horny work-out session that turns that training room into a hot sauna. "I do fitness a lot," said Monica.

Monica decided to try adult-style modeling because she likes new experiences and she's far from shy, in her girl-next-door way. This seemed like a fun time and she trusted the people at XLGirls after seeing the website and the magazine.

Monica gets hit-on a lot and a lot of guys seem to be photographers or promoters. "Guys will say to me, "You are the most sexual and hottest girl I have ever seen." But then some men will say silly things like "Why are your breasts so large?"