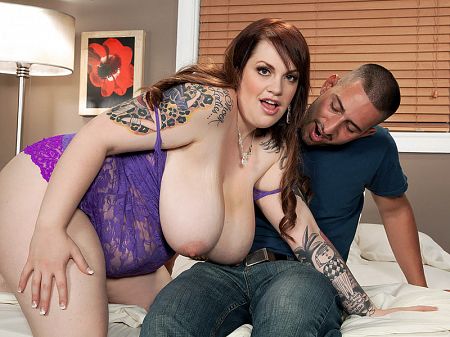 Al gets his own private titty show from dream girl Marilyn Mayson. How lucky can one lucky fool get? This lucky. Men go ape at the sight of this chick. Marilyn is delighted to have him waiting for her major hooters and ass. They get cozy and Al pops a nipple in his mouth. The warm, tawny pointer tastes delicious.

Marilyn wastes no time getting Al's meat-pole out of his jeans. She begins sucking him off with his pants still on. Her massive 50-inch 38H-cup whoppers rest on his thigh like it's a boob shelf while she takes his sausage in her hungry mouth. Marilyn is a sweet girl who loves to handle and play with a hard cock when she can get one and she has no shortage of suitors who would like to get their hands on her and their loads on her tits and face.

Marilyn wants cock between her breasts, sliding back and forth. She wants it thrusting deep inside her pink slit. And she wants to show you how she likes to be pounded. She wants his meat in her sexy ass. And she wants his nut on her pretty face.