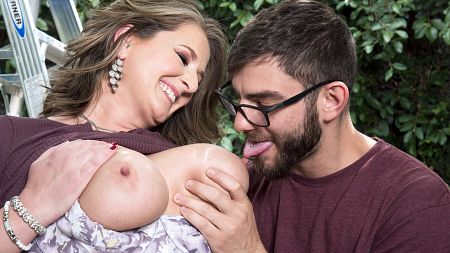 Kerry Martin leaves her house and goes into her back yard to check up on the workman she hired. As he steps down the ladder, Kerry holds it to keep it steady but impulsively lays her hands on his ass instead. He turns around while still on the ladder, his groin level with her face. She feels his package and wants to take a look at it. He doesn't object. When she unzips his jeans, his erect dick pops out. Kerry feels it and pops it in her mouth. There aren't many fucking positions one can do on a folding ladder so she brings him into her bedroom. Besides, the neighbor might hear her sucking. He may be on the clock but she wants to be on his cock.

Kerry drops to her knees to suck on his large thang again. She squeezes it between her big fat jugs and looks at him with a satisfied expression. Logan fucks her soft tits fast and hard. They get into her bed to resume their revised employer-employee relationship. Logan lies back so Kerry can squeeze his cock between her tits again. Her tongue lustfully swirls around his shaft. This lady can't get enough.

Kerry loves tit-fucking, sucking and yanking the stud's boner but she wants it in her pussy as soon as possible. She gets on her back and Logan spreads her cunt lips. He rams into her snatch fast and hard. Kerry rubs her clit and moans and cries as he pistons her. Logan wants more tit play and directs Kerry to get on her back so he can fuck her boobs again.

His thirst for big tits slaked for the time being, Logan resumes power-fucking Kerry from the side. He's been eyeing her ass also and wants it, so in her butt-hole his cock goes. He ass-fucks Kerry from the side, then puts her on her back with her legs in the air. He fills and drills her ass and fingers her meaty pussy at the same time. Kerry looks at him with such admiration as he pounds her ass that it's possible he may have spoiled and ruined her for other men.