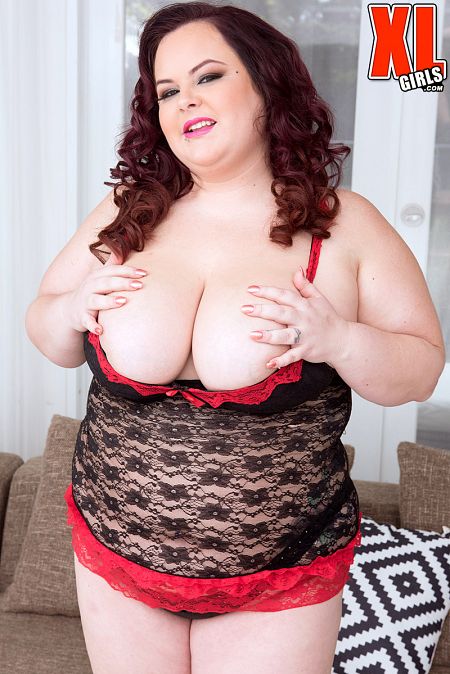 Jordynn LuXXX is having some me-time in the living room when Tony just walks into the house after hearing her moaning. He's looking for Jordynn's hub Jimmy. Giving herself a pat-down has made Jordynn horny so she's up for going down on Tony. As she swallows his dick, Jimmy comes home and catches them. He starts yelling but Jordynn defuses the situation by fucking them both.

XLGirls: So Jordynn, how would you compare this threesome to your first threesome?

Jordynn: I'd say both were very fun, but I think this one was more dynamic. The roles the men played made it more erotic to me. I like playing the slutty housewife!

XLGirls: Near the end, the guys put you in a piledriver position. Do you do this position in your private life?

Jordynn: I can honestly say I've not done the piledriver position often. However, I do really enjoy it! It's fun seeing a cock thrust in and out of me and that position provides a great view!

XLGirls: Name some XL Girls you would like to do a girl-girl-guy threesome with.

Jordynn: Angel DeLuca would be number one! Also, Kacey Parker, Nikky Wilder and Lucy Lenore! I love working with women that are as into women as I am, so the chemistry is real and super-hot! I want to enjoy seeing her fucked and tasting them both and I want her to desire the same!

XLGirls: With all due respect to our hardy male talent, are there any porn studs who don't jerk themselves off at the end of a scene?

Jordynn: I've shot with a couple who were able to cum just from the intensity of the scene!

XLGirls: Any messages for your fans?

Jordynn: I have been rather quiet recently due to real life but I want to thank everyone for always supporting me and watching my smut! I love that I am able to do this and I love my fans!

XLGirls: Thank you, Jordynn.